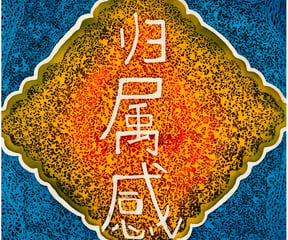 Batik Painting, H 45 cm x W 45 cm, framed and ready to hang.
The characters 归属感 (gui shu gan) means - sense of belonging. This painting empowers the energy of the surroundings, perfect for sparking inspiration for professionals like writers, filmmakers and artists.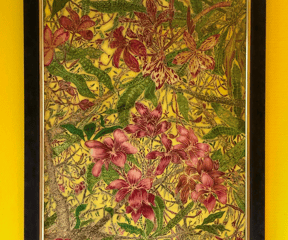 Batik Painting, H 124 cm x W 81 cm, framed and ready to hang.
"A fascinating work with a beautiful spatial effect. The technique is special, and you don't see so much, certainly not within this context. The elongated size works very well, giving you the idea of being in a jungle. The flowers and leaves are convincingly reproduced and for the botanist among us certainly recognisable. Beautiful colour nuances, which is not easy in such a technique. A work that commands respect." - Jury Report of the Painting of the Year Competition 2020. Weight: 10 KG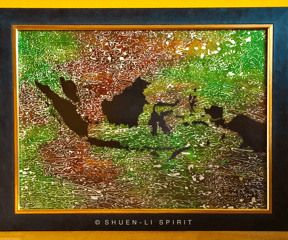 Batik Painting, H 67.5 cm x W 88 cm. PRINT ONLY available.
"Hand-drawn in pure beeswax on cotton fabric, this painting expresses the beauty of Indonesa's rich cultural diversity and my deep sense of Home." ~ Shuen-Li Spirit.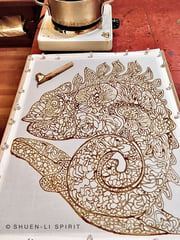 DIY Batik Painting Kit with custom hand-drawn design
The DIY Batik Painting Kit includes a hand-made cotton canvas with a design theme of your choice, fabric dyes with your choice of up to 7 colours, and a list of instructions on the entire Batik process.